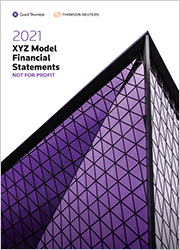 XYZ Model Financial Statements - Not For Profit - Checkpoint
Online

Date: 15/08/2021

Code: 41722227

Checkpoint NZ, NEW ZEALAND
Description
Thomson Reuters XYZ Model Financial Statements – Not For Profit helps users fully understand the implications of the new Not-for-Profit Public Benefit Entity regime and explains how to apply the new standards. Using a range of sample reports, it illustrates when and which report should be used, and includes with each report a complete set of accompanying notes and explanations.
Of particular interest will be the IPSAS Transition Guide that explains transition factors that need to consider. At over 100 pages each, the comprehensive set of disclosure checklists help ensure all reports contain the required information while assuring users that all factors have been considered. XYZ Model Financial Statements – Not For Profit also illustrates Special Purpose Financial Reporting requirements for Not-for-Profit entities where the form and content of the financial statements is not yet specified in their enabling legislation.
Available as either a book or online, the online version has the extra benefit of linking to Thomson Reuters XRB Financial Reporting Standards – a fully searchable collection of XRB standards and supporting documents.
Authored by Grant Thornton, XYZ Model Financial Statements – Not For Profit will help you apply the new standards correctly and prepare fully compliant financial reports.
Six reasons to subscribe to XYZ Model Financial Statements – Not For Profit on Checkpoint:
Contains the reporting requirements for all four tiers of financial reporting set out by the XRB.
Contains actual dollar amounts for all balances that show how the notes to the financial statements should reconcile with the primary financial statements.
All technical references are hyperlinked to the underlying accounting standards.
Enter an accounting term or topic and see how to disclose it.
Comprehensive side-by-side comparison pointing out the similarities and differences between "Old NZ GAAP" and the requirements of IPSAS.
No need to retype the accounting note disclosures, the templates can all be exported in Word and adapted as required.
Embraced by New Zealand accounting professionals for over 25 years, XYZ Model Financial Statements continues to be the industry standard for the preparation of compliant financial reports
Benefits
Stay up-to-date with an overview of the recent changes to the financial reporting framework, that provides guidance in determining which tier an entity will report under
Step-by-step guidance on how to save time and resources in producing professionally formatted financial reports
Reduce the risk of non-compliance and penalties
*
* Price is for a single annual subscription and includes all updates issued during this period. Thereafter subscription renewal invoices and updates will automatically be issued. Subscribers must provide the publisher with written notice of cancellation within 30 days of the date of their subscription invoice; otherwise the subscriber will be liable for the invoiced amount.