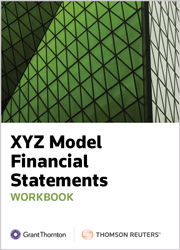 XYZ Model Financial Statements - Workbook - Checkpoint
Online

Date: 15/06/2021

Code: 41662297

Checkpoint NZ, NEW ZEALAND
Description
The XYZ Model Financial Statements - Workbook provides practical guidance in applying the New Zealand accounting standards.
It facilitates the identification of key issues, examines the relevant accounting standards under New Zealand IFRS and illustrates how they are applied.
The Workbook is used in conjunction with the XYZ Model Financial Statements product suite as a practical reference guide in understanding how to apply the recognition and measurement requirements for common but less widely understood accounting topics such as lease incentives, onerous contracts, compound and derivative financial instruments.
The Workbook illustrates the application of the New Zealand accounting standards using:
practical examples in the form of case studies;
journal entries;
tables, flow charts and diagrams; and
calculations and disclosure extracts.
Benefits
Understand complex reporting requirements, clearly presented in a user-friendly manner.
Save time and resources in researching and analysing the interpretation and application of New Zealand accounting standards.
Have confidence in applying the New Zealand accounting standards for common accounting scenarios.
*
* Price is for a single annual subscription and includes all updates issued during this period. Thereafter subscription renewal invoices and updates will automatically be issued. Subscribers must provide the publisher with written notice of cancellation within 30 days of the date of their subscription invoice; otherwise the subscriber will be liable for the invoiced amount.