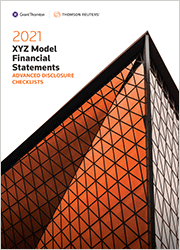 XYZ Model Financial Statements - Advanced Disclosure Checklists - Checkpoint
Online

Date: 15/05/2021

Code: 41413602

Checkpoint NZ, NEW ZEALAND
Description
Embraced by New Zealand accounting professionals for over 25 years, XYZ Model Financial Statements continues to be the industry standard for the preparation of compliant financial reports
Stay up-to-date with an overview of the recent changes to the financial reporting framework, that provides guidance in determining which tier an entity will report under
Step-by-step guidance on how to save time and resources in producing professionally formatted financial reports
Reduce the risk of non-compliance and penalties
XYZ Model Financial Statements - Advanced Disclosure Checklists is a comprehensive collection of templates to ensure financial statements comply with disclosure requirements.
What's New in 2020
Updated content for new standards and amendments to current existing standards issued by the New Zealand standard setters are in the checklists, including NZ IFRS 17: Insurance Contracts.
Checklists for 2020 have been updated to remove a lot of the transition requirements to new Standards that came into effect in 2019, particularly in relation to NZ IFRS.
Checkpoint Advanced Disclosure Checklists includes the following:
Full NZ IFRS Disclosure Checklist for For-Profit Tier 1 entities
NZ IFRS RDR Disclosure Checklist for For-Profit Tier 2 entities
Annual Report Preparation Checklist
Full PBE IPSAS Disclosure Checklist
PBE IPSAS RDR Disclosure Checklist
Full disclosure requirements for those adopting the Special Purpose Financial Reporting framework
For pricing, to order Checkpoint products and services or discuss trial options, please contact our Customer Care Team by emailing info.anz@thomsonreuters.com or calling 0800 785 483.
Audit Assistant deal
Audit Assistant is an online software tool for assisting accountancy firms with their audit work ­ primarily focussed on (but not limited to) New Zealand firms providing audits for SME and PBE clients.

Audit Assistant allows firms to provide better value to clients while performing a thorough, efficient audit that complies with current auditing standards and doing away with old paper based systems.
Audit Assistant customers receive a 10% discount for this product. For further details please see auditassistant.com.
*
Price is for a single annual subscription and includes all updates issued during this period. Thereafter subscription renewal invoices and updates will automatically be issued. Subscribers must provide the publisher with written notice of cancellation within 30 days of the date of their subscription invoice; otherwise the subscriber will be liable for the invoiced amount. For further information email info.anz@thomsonreuters.com or call 0800 785 483.