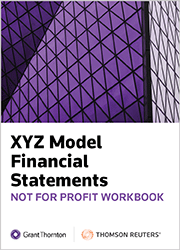 XYZ Model Financial Statements - Not For Profit Workbook - Checkpoint
Online

Date: 15/09/2021

Code: 41722228

Checkpoint NZ, NEW ZEALAND
Description
Written with the preparers of financial reports in mind, the XYZ Model Financial Statements - Not For Profit Workbook examines and explains the accounting requirements for a not-for-profit Public Benefit Entity. Key issues that may arise are dealt with in a simplified and user-friendly manner.
The Workbook supports the development of not-for-profit financial reports by giving examples of how to work through and treat difficult types of items that appear in the financial reports.
The Workbook also includes detailed transition work plans for both NZ IFRS to PBE IPSAS and Old GAAP to PBE IPSAS together with a comprehensive disclosure checklist for Full PBE IPSAS.
Embraced by New Zealand accounting professionals for over 25 years, XYZ Model Financial Statements continues to be the industry standard for the preparation of compliant financial reports
Benefits
Stay up-to-date with an overview of the recent changes to the financial reporting framework, that provides guidance in determining which tier an entity will report under
Step-by-step guidance on how to save time and resources in producing professionally formatted financial reports
Reduce the risk of non-compliance and penalties
*
* Price is for a single annual subscription and includes all updates issued during this period. Thereafter subscription renewal invoices and updates will automatically be issued. Subscribers must provide the publisher with written notice of cancellation within 30 days of the date of their subscription invoice; otherwise the subscriber will be liable for the invoiced amount.