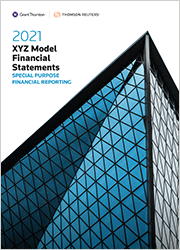 XYZ Model Financial Statements - Special Purpose Financial Reporting - Checkpoint
Online

Date: 15/07/2021

Code: 41867202

Checkpoint NZ, NEW ZEALAND
Description
Simplifying the transition to the SPFR significantly, XYZ Model Financial Statements - Special Purpose Financial Reporting ensures that entities have a disciplined and logical process to work through as part of their transition to the new framework. It also ensures that entities are aware of the differences between how they account for balances going forward as compared to how they previously dealt with them under their previous version of GAAP.
Transitioning to Special Purpose Financial Reporting is not a "business as usual" exercise. With the removal of the statutory requirement for a significant number of SME's to prepare general purpose financial statements in accordance with GAAP, many organisations now find themselves without a legislative obligation to prepare GAAP compliant financial statements, and no framework with which to prepare them against. Recognising that many organisations still require the support of a set of minimum financial reporting guidelines, CAANZ developed a special purpose financial reporting framework (SPFR) for use by SME's preparing financial statements. Using this framework, XYZ Model Financial Statements - Special Purpose Financial Reporting assists entities meet their continued financial reporting demands consistently by:
providing step-by-step guidance detailing how to transition to Special Purpose Financial Reporting
demonstrating professionally formatted financial reports for a range of entities
Embraced by New Zealand accounting professionals for over 25 years, XYZ Model Financial Statements continues to be the industry standard for the preparation of compliant financial reports
Benefits
Stay up-to-date with an overview of the recent changes to the financial reporting framework, that provides guidance in determining which tier an entity will report under
Step-by-step guidance on how to save time and resources in producing professionally formatted financial reports
Reduce the risk of non-compliance and penalties
*
Price is for a single annual subscription and includes all updates issued during this period. Thereafter subscription renewal invoices and updates will automatically be issued. Subscribers must provide the publisher with written notice of cancellation within 30 days of the date of their subscription invoice; otherwise the subscriber will be liable for the invoiced amount.