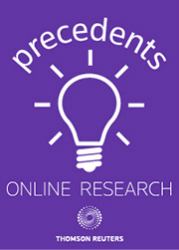 Criminal Precedents - Westlaw NZ
Online

Date:

Code: 41169034

Thomson Reuters, NEW ZEALAND
Description
Brookers Criminal Precedents is designed to guide legal practitioners through all aspects of criminal law procedures in New Zealand.
From first attendance at the police station, through the legal aid process, sentencing and appeals, the service is a self-contained resource which provides a structured approach to the work of criminal law practitioners.
Each of the topics in Brookers Criminal Precedents contains a narrative summary of required and possible actions. Links in each summary connect to resources such as legislation, cases, forms and precedents and interview sheets.
In addition to the comprehensive Criminal Procedure section, Brookers Criminal Precedents contains sections on Legal Aid (including Legal Services Agency policies and forms), Mental Health (with guidance on matters such as assessment of fitness to stand trial), a full set of Prescribed Forms for matters under New Zealand criminal legislation, Transport (all matters, ranging from infringement notices to serious charges) and Youth Justice (a logical guide to all the processes and procedures relating to this important area of law).
Table of Contents
Criminal Procedure
At the Police Station
At the Court up to plea
Before defended hearing
Defended hearing
Before trial
Trial
Sentencing
Appeals
Evidence
Evidence Act 2006
Evidence Regulations 2007
Legal Aid
Overview
Key principles
Remuneration
Applications for legal aid
Invoicing and payment
LSA policies
LSA forms
Mental Health
Introduction
Fitness to stand trial
Detention, treatment and care
Assessment of defendants
Legislation and Regulations
Prescribed Forms
Over 300 forms prescribed for use by New Zealand's criminal and youth justice legislation
Transport
Taking instructions
The scene
Infringement offences
Summary proceedings and hearings
Depositions
Appeals
Costs
Forms, regulations and practice notes
Youth Justice
Youth justice principles
Criminal responsibility of minors
Arrest of a child or young person
Prosecution of young offenders
Reports and plans
Youth Court proceedings
For more information please either contact your account manager or call Customer Service: 0800 10 60 60
*
Please note that product prices are a standard entry-level price (1-5 online and 1-3 CD users). This price may vary if there are more users or if customers enter into an e-Options or Information Supply Agreement with us.